11 best hotels in Cardiff
Our top picks
Lowest price first
Nearest to
Best reviewed
Fast facts about Cardiff, United Kingdom
| | |
| --- | --- |
| Accommodations | 934 properties |
| Popular hotel | Mercure Cardiff Holland House Hotel And Spa |
| Popular area | Cardiff |
| Nightly rates from | $18 |
| Airport | Cardiff Airport |
5-star hotels in Cardiff
---
The hostel is very clean and tidy, it occupied the whole building similar to a motel or hotel. My 4 people room has its own shower and toilet, just likes a hotel room. It requires 15 min walk from the station, 15-20 min walk to Cardiff castle and city centre. Very comfortable and you won't regret to stay at this place.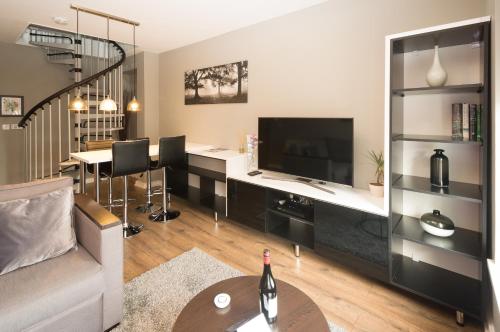 ---
Well appointed accommodation, comfortable bed.. unfortunately we had a lower ground apartments. Where people walked by ,they could see into the apartment, as there is only a, see through net curtain, no drapes at all. Felt very uncomfortable, as had no privacy..
---
Traveler impressions of Cardiff
Beautiful city with enough to do for two full days with a well thought out programme. Recommend Cardiff Castle and Castle Coch.
Such a friendly and exhilarating place. The sun was shining which helped of course but I got the impression that Cardiff is a happy city even without sun.
Cardiff is a great pace to stay with plenty of shops, restaurants and Cafes, a great place to both relax and party.
Millennium Stadium was the most amazing Rugby experience I have had - there has been a few. The singing was amazing - the crowd oozed passion and were so wonderfully one-eyed, in the nicest ever way.
Overall a nice city. People are very friendly and all ready to give you help when you needed. Nothing much to do though in the city except the tour of the castle.
I went to Cardiff as a tourist. I was a bit of disappointed as I was looking for a good Welsh food to taste and experience the welsh ways of cooking food but I was not able to find any authentic restaurant that serves the real welsh food.
In the shopping complex close to St Queens Walk you must go to the perfume shop. the branded perfume is really cheap.
It is so different from London, visitors to the U.K. should not miss it. The castle is right in the centre of the city, sports facilities and events abound.
Cardiff is not only a good place for relaxation for outdoor activities, it is also an ideal for learning, dining etc.
---
Cardiff's best hotels with breakfast
---
Frequently asked questions
What's the average price of a resort in Cardiff tonight?
The average price for a 3-star hotel in Cardiff tonight is USD 91. The typical price for a 4-star property in Cardiff this evening is USD 104. The typical price for a 5-star hotel in Cardiff this evening is USD 144.
What are the top accommodations in Cardiff for families?
Hotels in Cardiff that are significantly scored by families include easyHotel Cardiff, Travelodge Cardiff Central and Mercure Cardiff Holland House Hotel And Spa.
What's the best location in Cardiff to stay in?
Famous local communities amongst vacationers staying in Cardiff include Cardiff, Butetown / Grangetown and Cardiff International Airport and Nearby.
What accommodations in Cardiff are very highly rated regarding hygiene?
Accommodationsin Cardiff which is exceptionally rated regarding hygiene include New House Country Hotel, Manor Parc Hotel and Maltsters.
What places to stay around Cardiff are exceptionally rated with regards to facilities?
Propertiesin Cardiff which is highly rated with respect to amenities include Maltsters, Fox And Hounds Llancarfan and Vale Park Hotel.
What are the ideal hotels in Cardiff that have swimming pools?
Verified travelers to Cardiff have given out exceptional ratings concerning the swimming pools at Cardiff Marriott Hotel, Park Plaza Cardiff and Novotel Cardiff Centre Hotel.
What are the most suitable pet-friendly accommodations found in Cardiff?
Verified visitors to Cardiff have given out exceptional reviews for pet-friendly accommodations including Copthorne Hotel Cardiff-Caerdydd, Angel Hotel and ibis budget Cardiff Centre.
What are the most appropriate hotels in Cardiff with complimentary parking?
Properties which has complimentary parking in Cardiff that are highly rated include Connaught House - 5 Minutes From City Centre - Free Parking and Stunning New Apartment with WiFi & Parking!.
What are the best properties around Cardiff that have restaurants?
Resorts which have restaurants found in Cardiff which are exceptionally rated include Brand New One Bedroom Apartment in Cardiff Bay, Brand New One Bedroom Apartment in Cardiff Bay and Brand New One Bedroom Apartment in Cardiff Bay.
What are the prime wheelchair accessible accommodations around Cardiff?
Wheelchair-accessible hotels around Cardiff that are exceptionally rated include Park Lane Aparthotel and Park Lane Aparthotel.
What's the best neighborhood with nature getaway in Cardiff?
A top nature getaway neighborhood in Cardiff is Cardiff.
Is pre-departure covid test needed for unvaccinated visitors to enter Cardiff?
Proof of negative pre-departure COVID-19 test may be required to enter Cardiff. For up-to-date and in depth information on travel restrictons, please take a look at the official websites of the travel authority or government of the country you wish to visit, or go to here.
Explore more travel vacation rentals
More about Cardiff
Cardiff is a perennial holiday location for nature and outdoor tourism. Travelers from all over the world flock to Cardiff to try out just about everything this locale can offer, like outstanding nature attractions in Cardiff, hotels and resorts near lakes in Cardiff, and mountain view hotels in Cardiff. Travelers take full opportunity to select the large amount of hotel golf clubs in Cardiff, Cardiff center aquarium hotel packages, Cardiff downtown accommodation, golf view hotels in Cardiff, and high-rise hotels with views in Cardiff in the proximity of the finest nature areas. Cuisine that can be found with the restaurants and bars in Cardiff features options for a wide range of preferences. The best nature areas in Cardiff include Brynhill Barry Golf Club, Glamorganshire Golf Club, and Mountain Lakes Golf Club, which in totality produce a selection of wildlife and camping experiences and nature-based evening activities. Hotel room options in Cardiff cover anything from reasonably priced capsules in Cardiff to expensive 5-star luxurious hotels close to zoos in Cardiff. You can also and many more for tourists of all preferences and budgets. Bear in mind-- single-unit getaway rentals in Cardiffare readily available for guests who have more specific lodging needs, such as multiple-bedroom units near aquariums, roomy balconies with city views, or concierge assistance to help you enjoy the most unforgettable outdoors activities found at golf courses in Cardiff. Top mountain resort hotels in Cardiff allow all straight forward access via public transport to Brynhill Barry Golf Club, and restaurant options with open air selections too. In addition, you can book top hotels around Glamorganshire Golf Club, or convenient places to stay near Mountain Lakes Golf Club. The structure of Cardiff is very suited for forest villas in Cardiff, taking walks from your hotel near parks, or hotel rooms nearby the top nature tour offerings in Cardiff.

Cardiff is a treasured getaway for travelers seeking urban exploration and shopping. Travelers from across the world travel to Cardiff to sample everything this location can offer, for instance malls, shopping centers, and markets. Vacationers make use of the several urban boutique hotels in Cardiff, Cardiff center hotels, Cardiff downtown accommodation, market street hotels in Cardiff, and urban hotels in Cardiff near shopping areas--along with the coffee shops and Cardiff restaurants that serve local specialties as well as other favorites. Food in Cardiff consists of choices for all types of tastes. Quality shopping centers in Cardiff consist of Wales Millennium Centre, Cineworld, and New Theatre, which jointly provide you with a range of shopping experiences and urban activities. Holiday accommodation selections in Cardiff cover all bases from low-cost capsules in Cardiff to high-end 5-star luxurious hotels near shopping areas in Cardiff. Additionally, you can search for incredible serviced rooms in Cardiff, hostels in Cardiff, and many more for visitors of most preferences and budgets. Also, individual-unit trip rentals may be opportunities for travelers and tourists with more particular accommodation requirements, such as multi-bedroom units, spacious terraces with city views, terraces with downtown views, or concierge services to help locate the best shopping experiences. Top hotels close to market centers in Cardiff provide you with very easy access by means of public transport to Wales Millennium Centre, as well as restaurant options with luxurious vibe as well. You may also discover top places to stay near Cineworld, or convenient hotels near New Theatre. The map of Cardiff is notably ideal for city shopping experiences, or just simply browsing the shopping malls near hotel zone in Cardiff.

Cardiff is a special destination for art, culture, and history travel. Travelers from all over the globe choose Cardiff to experience just about everything this place offers, especially the finest attractions in Cardiff, monument hotels in Cardiff, and famous historic hotels in Cardiff. People coming in reserve the numerous hotels near monuments in Cardiff, Cardiff center hotels near monuments, Cardiff downtown accommodation, historical hotels in Cardiff, and high-rise hotels with views in Cardiff close to the best historical areas. Cusine which is feasible with the eateries and bars in Cardiff comprises of flavors for all kinds of tastes. The most frequented cultural locales in Cardiff consist of Butetown History & Arts Centre, Church of St John the Baptist, and Coal Exchange, which altogether produce an array of sightseeing memories and art-based night activities. Hotel and room alternatives in Cardiff range between economical capsules in Cardiff to high quality 5-star luxury hotels near galleries and monuments in Cardiff. You may also seek out great serviced bedrooms in Cardiff, hostels in Cardiff, and many more for vacationers of most tastes and budgets. Notably, individual-unit trip rentals in Cardiff will be available for travelers and tourists with extra esoteric hotel preferences, including multi-bedroom units near monuments, spacious balconies with city views, or concierge support to assist you locate the top cultural experiences at historical sites in Cardiff. Top-rated hotels near famous buildings in Cardiff deliver very easy access using public transport to Butetown History & Arts Centre, plus food choices with open-air options options as well. You may also seek some of the best accommodations around Church of St John the Baptist, or comfortable hotels nearby Coal Exchange. The structure and streets of Cardiff are particularly suited for museum hotels near Cardiff, or going for walks from your hotel to museums, or hotels near the best museum tour services in Cardiff.